It's been one hell of a ride; with ups and downs, highs and lows. It all evolved from the hitchhike with Keith last year, to the creation and completion of the crazy adventure: The "Grand Tours Project". In numbers: 10,533 km cycled, 157,848 meters climbed, 407:32 hours and 63 days on the bike. But most importantly 170 countries were reached in our mission of inspiring all of us to listen to "the scream from nature".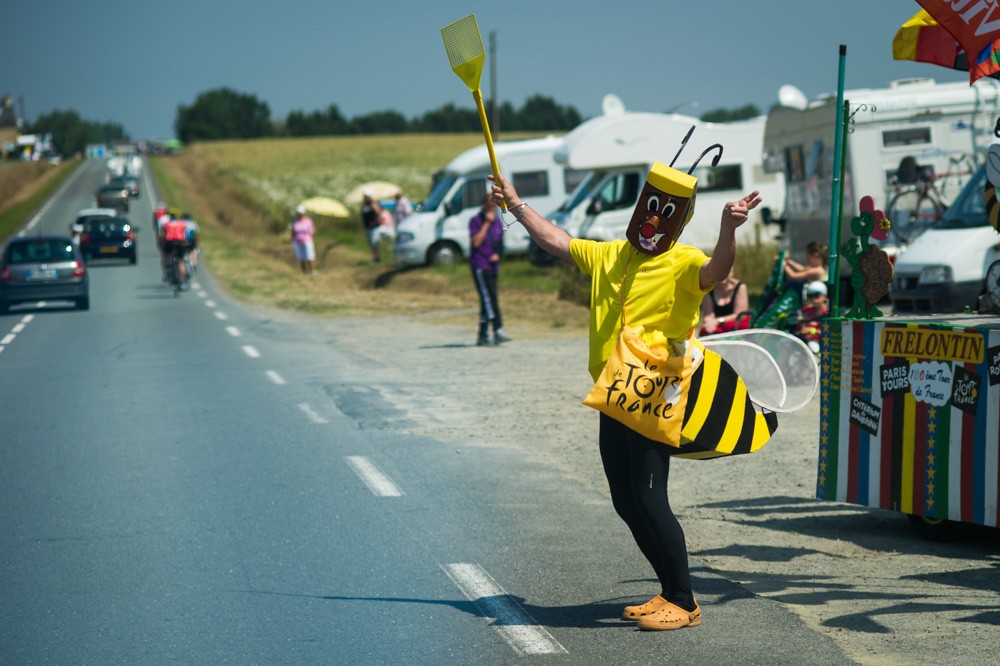 The project
Keith was attempting a world record by cycling every kilometer of the three major cycling-races on the same day as the pro's (Giro d'Italia, Tour de France And Vuelta a Espana). My role was to "produce" this; to make a brand, get sponsors, attract the media, create content and raise awareness for environmental sustainability. We called it 63 days on a bike and 63 environmental inspirations. And for 63 days, through Italy, France and Spain, Keith has been spinning his bike while people at home could follow our journey through videos, photos, updates and daily eco-stories written by various environmentalists from around the world.
Fighting through the clutter
It all started with the lows… We had limited time, I was based in Oslo (not excactly the cycling-capital) and did not know anything about the cycling-world. I must have approached almost a 1000 people and I'm sure my e-mails ended up in the spam-filter for most of them. There were hardly any replies and the few I did receive were not very positive. They were always something like:
Dear Ms Kveim, we are contacted by numerous similar projects every day. Unfortunately we can't help.
The challenge was to keep on trying, and to still have faith in our project. Surely what Keith was about to pursue was an amazing achievement (no doubt about that) and our cause was noble. But there are quite a few out there with daring adventures and a cause to promote. Plus, it was a bit difficult to explain Keith's challenge:
…Cycling solo, same day, every stage, starting at 5AM, amateur, no support-team, bad knee etc.
And because we had decided not to choose one particular environmental cause, it was also difficult to explain the motive. So it was very challenging to reach through the clutter; to a journalist in Australia or to a potential partner in the US… There were times I was afraid the whole project would lead to nowhere.
VIP's and cycling-legends
But then things slowly started to roll. We got some sponsors on board who truly understood the challenge Keith was about to attempt; Oakley, Wilier Trestina (an Italian bike-brand), a clothing-partner and a media-partner. We also teamed up with IMG and RCS Sport (the organisers of the Giro) and created with them a VIP Cycling-event.
A bunch of adventurous and influential people with an interest in supporting the cause cycled a stage with Keith. Among them: Former ManU-player Ronny Johnsen, songwriter Sacha Skarbek (producer of Miley Cyrus' "Wrecking Ball" – oh yes, that naked teeny-bopper), the face of golf for CNN Shane O'Donaghue, environmentalist Frederic Hauge who drove a Tesla electrical support-car, and many more. Even cycling-legend Mario Cipollini rode a stage with Keith.
This was a BIG day for us! Mario is one hell of a charismatic rebel, and probably the only one in the cycling world who could break the cycling-etiquette of "no shirt, no helmet" and pull it off. Everybody went nuts when they saw the "Lion King" on the road. And when he took off his shirt, even more so…
Yep, that's THE Francesco Moser serving Ronny Johnsen wine.

Most of the time I had no idea who these people were, but here I'm with the "best cyclist in history", Eddie Merxck. Nice guy!

Here with songwriter Sacha Skarbek. Nice guy too.


Keith with former World Champion Mario Cipollini, aka; Cipo, the Lion King, Super-Mario. He holds the record of the most stage-wins in the Grand Tours History with 58 individual stages…
Chasing the press
Then, from having been totally ignored by ASO (the powerful organization behind the Tour de France), we finally got through to them. And, when we did, we were fully in. All the way. We were fortunate to get the accreditation that allowed us to be absolutely everywhere. During Tour de France I mainly focused on getting the media onboard, so I was hanging around by the "TV-compound" and the press centre. I was probably the only one not working in the media there, and felt quite like a "stalker" as I was approaching everyone in the attempt to sell our story. Again, it was quite a though call to get through. They were all very focused on the race itself, and not on stories like ours. However, one day we were lucky enough to get Keith live on French TV (the main broadcaster of Tour de France). It was Saturday evening and Keith was interviewed right after the leading pro-cyclist, Chris Froome, for 4 million people to see. A star was about to arise…
From ignoraton to admiration
From having been the complete underdog, things really started to happen. The day after the France TV-interview people recognized Keith on the streets, and even the police treated him with a different respect. Keith was then interviewed a few times by Eurosport International, by Australian SBS, German Zeit, Belgian TV, Dutch TV, Italian La Republicca, Spanish TVE, Danish and Norwegian TV2. And much much more! I've done a rough estimation of how much reach we got in total – and that is more than 25million people. And with that I haven't counted the two mini-documentaries produced by Trans World Sports: A sporting-programme that appearantly reaches nearly 200 million households through various networks! Our sponsors were now quite content with the return on their humble investments.


Here with commentator and reporter for France TV, former cyclist Cedric Vasseur.
A "Scream" from the Cycling world!
Painter Edvard Munch heard a scream in the nature which was his inspiration to paint the scream, and now we hear a different scream from the nature in terms of flooding, mass extintion of animal species, climate change etc. But we still tend to ignore it. In collaboration with artist Lise Wulff and her project thescreamfromnature.com we made the last and biggest environmental inspiration (of the 63) as a giant scream made out of signed cycling jerseys from all the pro-teams of the Vuelta. This would symbolise that we should listen to the scream from nature.
Another race -with the clock
The challenge was to get all the 22 pro-teams, ASO and the media in on it in less than three weeks during the Vuelta a Espana. The project was quite far from what they've ever done before, so to try to make it happen meant working day and night. Even when I got the worst flu ever and felt absolutely dead sick, I stuffed myself with double dosage of antibiotics and kept on going. It was as if I was doing a separate race than Keith and our crew (video and photo), and I hardly ever saw them during the Vuelta. It was ashame, but the hard work paid off in the end.
The Grand Finale
We created the scream together with team-representatives laying down their team-jerseys, in a "ceremony" for the press. And the location for the giant anxiety-ridden face was no other than at the finish-line between the start and the podium on the last day of the Vuelta, on Placa de Cibeles in Madrid. The riders would pass the scream 24 times during their final loops on Paseo del Prado (the champs élysées of Spain), so the spot was just perfect. It was a magical moment when Keith crossed the finish-line, completing the three grand tours as the first in the world during the 100 years history of the Grand Tours. And at the same time the official tv-cranes swiped above the scream to broadcast it live to over a 170 countries. A press-release had been distributed from ASO and us about the Scream, so the various media in all the countries were informed about the environmental symbol and the Grand Tours Project. It topped it all when Vuelta-winner, Chris Horner, stepped off the podium to donate his red (winning) jersey to Keith and the Scream, surrounded by hundreds of journalists. It was a fantastic ending to it all and I felt overwhelmed and happy that Keith had made it, that the scream was a sucess and that we had gotten the buzz of our cause out.
The days after and the days to come
It has been such a full-on journey, and suddenly it was all over … Now I'm filled with memories, emotions, new friends, new opportunities and lots of experiences. I've mainly loved being a part of the Grand Tours Project, but it has also been so challenging and intense that at times it caused loads of frustration and stress. However, if I could have turned back time I would have taken a chance on a stranger again – and done it all over. Yep, that's for sure! And, now that the future again is unclear, well who knows what the next "hitchhike" might lead to?
Photo-credit to the Grand Tours Project -photographers.