Three contrasty days to my previous beach-months? Oh yeah.
Three girls staying with Alex: the supermodel Gitte, the dancer Ane and the backpacker (moi). Alex Herron is known for directing musicvideos for stars like Kylie Minogue, Pitbull and Basshunter, but is known to me for his good heart, honesty and hospitality. Last night, 300 meters away from Alex's appartment in Hollywood Boulevard, celebrities walked down the red Oscar-carpet.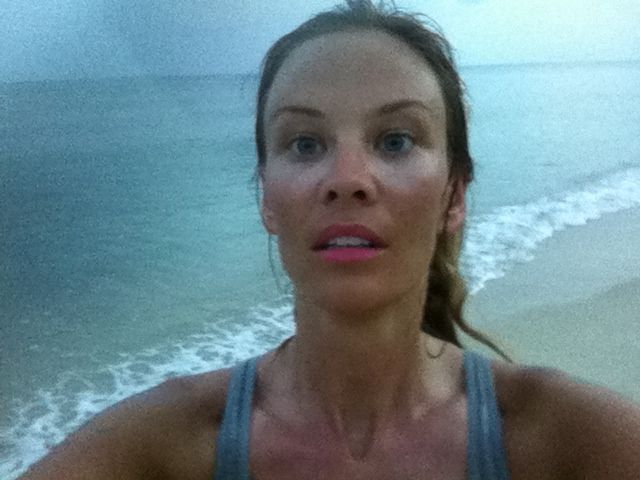 At the same time we were at an Oscar-party at our friend (director and DOP) Hallgrim Haug's amazing house in the Hollywood hills. And while I was wearing Hal's wollen sweather, his Bergans jacket and my baby-blue sneakers, there weere three naked girls having a "cozy" time in the jacuzzi. For me this was a pretty exotic Hollywoodian sight. For them, the most natural thing in the world. But what was it about the three guys at Hal's party? They are all part of the house and experimental TV-series "Project Hollywood", meaning they are (with the help of dating-techniques from the book The Game) professional "kings of pickup".
Three times their theories were tested on me, and I received one pick-up-line from each one of the boys: "Your so cute!", "I love your style" and a legendary one; "Wow, I wanna have an injection of your genes in me!". The last one was the response of the 19-year-old pretty-boy after I told him I am 30. What an injection of selfconfidence-boost you gave me there guys! Knowing you've pulled off these lines 3000 times before. Tjihi…
Three friends of Alex who enhanced the contrast between the cityfolks and the beachbums? Miran – the Madonna choreographer, Ina – the Austrian actress who has over 100 million fans in China and Katie – the starlet who played the California-girl in Mad Men. Find three mistakes? I was the only one wearing flip-flops, colorful beachwear and my seashell-hairband in the fancy spchansy places we were. I was also looking like a homeless lady with three blankets wrapped around me at the impossible-to-get-into-hotspot, Hotel Pali. Well, I have only one sweater with me on the whole trip, a light blue Quicksilver-hoodie that doesn't go too well in the highfly LA clubs or in the currently freezing cold (I'm used to the Caribbean temperature) LA-weather. Three differences from Cabarete? Oh, there are wayyy more!!! But the biggest one is that your work kind of defines you over here and in big cities alike. Your status is first and foremost created in regards to what you've done and not necessarily who you are. I tried to run my own little "experiment Hollywood" and instead of asking people the common question "what do you do?" I asked the rather rear question "who are you???" I didn't get a lot of personal answers on that one but the surprising question at least got the conversations started…
Contrasts are good for appreciating both sides of the life-balance-scale and allthough I don't think Los Angeles is a long-term city for me, I must say that I was again triggered by the energy, drive and ambitions in a city. There are so many different worlds out there and it is interesting to feel that parts of you could fit in so many of them… How about creating a very own collagelife? "Pick and choose from the best of three worlds!" That would be something…
The three musceteers: Alex, Ane and Gitte – thanks for a short but great time!!! Looking forward to an "Alex's angel's" reunion in the Marshmellow-flat! And to you Kalvin, my Dominican amigo (ref. post abt "Some of The Folks") -soak it in and be prepared for more than one cultureshock in the city of three names: City of Angels/ Los Angeles/ LA!!!