This is me, a few hours hours before i reached 5416 meters and with no clue that I was gonna get Acute Mountain Sickness (AMS). That's heavy shit. So if you intend to reach a high mountain one day, please DO read on…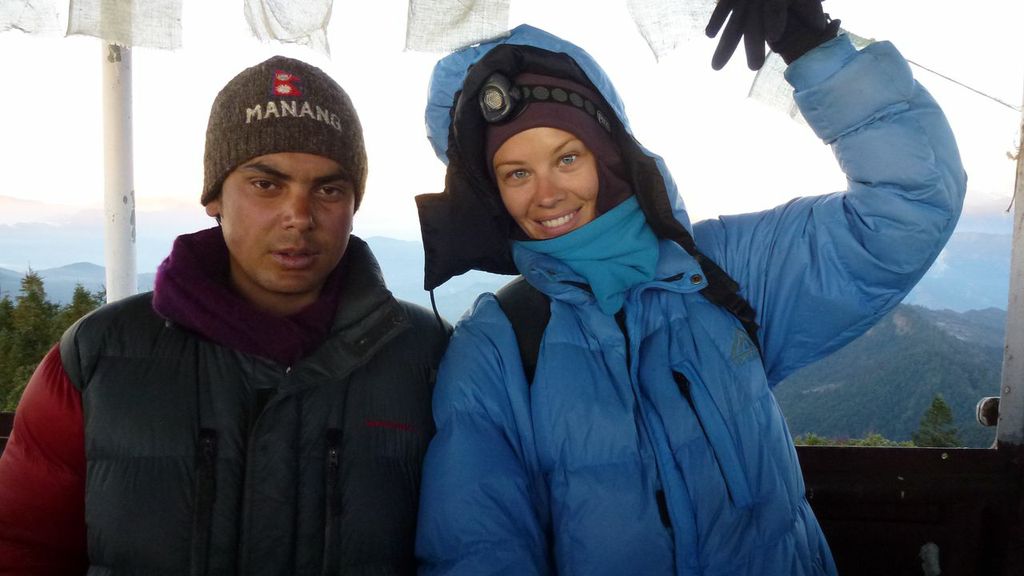 "You're gonna feel like a little bird" was the sentence swirling through my head and all I could see was one step ahead. One foot infront of the other, one foot infront of the other.
My local montainguide Bakhta, and I have been trekking for 16 days, 6-10 hours a day, with 14kg on the back in the Annapurna region of Nepal. We have trekked through summer, spring, winter, fall, jungle, thick forrests with the tallest trees, wild rivers with the scariest bridges, frozen lakes with turqoise glacier water, desert-like landscape on the border of Tibet and villages with sacred temples, hinduists, buddhists and farmers; all living peacefully with the highest respect for eachother and the mystical Himalayas. Every day with blisters, sore ankles and backs we arrived at another destination. Another teahouse to eat, play cards and fall asleep in before 8. And every day and every night the weather got more and more harsh. Some nights I slept with all my clothes, with beenie and gloves in a minus 10 degree sleeping bag, with two blankets on top of that -and I still froze. It was so cold that I didn't even shower for 14 days as I couldn't bear the thought of having wet hair. And while the cold wind found its way into every little possible inch of my body, we slowly ascended higher and higher. 8 of the 14 highest mountains in the world are in Nepal, including the highest of them all, Mount Everest; the top of the world. I thought I was used to the mountains -to see them, be in them, hike and ski in them. I even lived a season in Switzerland in them. But no…
The day of the pass, we had to start at 4 o'clock in the morning with the torchlight and moonlight to guide our way, a meditative hike straight up for 2000 meter in one go! One foot infront of the other, one foot… Most of the days I listened to the silent wings of eagles and Tibetan flags sending off their mantras in the wind, but this day I listened to music -the beautiful and indescribeable tunes of Sigur Ros's album "Takk" (Thank You). It matched the indescribably beautiful Tibetan-ish landscape as we slowly approached the top (you normally only have the strength to walk in a zombie-like paste in high altitude). We had by now walked for more than 4 hours. But it was only 08:30 in the morning and the sun had risen fully over the snowcaped mountainrange. I removed the earplugs for a change and realized the sounds of Sigur Ros had drowned my headache. There is less atmosphere up there, which gives you 50% less oxygen than what you get at sea level. This makes your breathing rapid, your nights sleepless and your dreams vivid. In short -you DO feel it! But that doesn't mean that you've got altitude-sickness. However, if you get any of the following symptoms, you do…
In an instant, my headache had worsened. I felt dizzy and drowsy. I was nauseous and wanted to puke.
And even though I already had been drinking 6-7 liters of water (your supposed to drink at least as many liters as your altitude -meaning 6 liters at 5416), I felt dehydrated. I needed water desperately, and there was no more water in my bottle. There was only a few hundred meters to the top but I couldn't walk any further. I stopped, sat down and crawled up next to a rock. I wanted to sleep. But Bobby kept me awake and stopped a couple passing by, asking them kindly for water on my behalf. I remember she had a blue jacket, like me. And we both had a headache… The kind couple shared their water with me!!! I was so thankful and swallowed the water as if I had found a waterhole in the desert. Slowly I gained some more strength and after a while Bobby and I continued going slowly upwards; "You're gonna feel like a little bird"…
At the top of the Thorong La Pass, at 5416m there were no birds. It was unbearable. I didn't see or feel anything other than pain, so I took a quick photo and started running down frenetically. All I wanted was to relieve the pressure in my head. Bobby followed as fast as he could, running after me, with both our bags -25kg on his back and stomach. 100, 300, 500, 700 meters down. The headache was still there, massively. So I only stopped for a split second when I see someone unconcious on a piece of cloth, being carried down by a bunch of guys.
I can see there is a girl there, in a blue jacket… "Oh my God! Is it the one who gave me water? Is it partly my fault she collapsed??" The best cure for altitude-sickness is to descend and I run even faster down now super frightened; 1000, 1300, 1500.
I am still with a severe headache, I'm still dizzy and I'm now also feeling really week. I tell Bobby to stay close to me as I'm afraid to faint and fall down the steep mountain. I wanted to make a rope out of some clothing and bind me to him, but he is starting to feel exhausted too. He decides to call for a helicopter-rescue…But there is no more battery on his mobile. We can hear the sound of a chopper above us, on its way to rescue the girl with the blue jacket…
So we keep going; 1700, 2000, 2500 meters down. Bobby has twisted his ankle and my body is shaking, but 5 hours later we are down at some sort of road. I get on a motorcycle to Muktinath, one of the holiest places for Hindus, and the closest place with a doctor. But it turns out that the doctor is out of town… I feel anyhow a bit better by now, so I eat and eat and eat and drink and eat and sleep for the next two days. And wake up with no headache… We then start walking slowly down to the next village and arrive at dark in some random guesthouse with an available bed. Who do you think we meet there? The couple who gave me water! It turns out that she was not the girl with the blue jacket who collapsed up there, Thank God! But they had thought it was me too. We didn't know eachothers names or origins, but we had shared a special moment on the top and we had been worried about eachother. I hugged them out in relief and thankfulness. Who knows what would have happened without that extra water in my body…
I am telling you this story from the trek, because it is a big part of the trip. But I've also written it down to remember it. The trek in itself was so wonderful. Nepal is in short one of the most amazing and magical places I've been in my life, and the people are just as beautiful. Bobby was a great companion. So it is easy to remember only the beautiful parts. But altitude sickness, dudes and dudedettes, should not be ignored. Till next time!