A big fat toad jumped ahead and led the trail through the dark, misty jungle. I had no idea where the toad and my dear friend from college, Daria Boone's mum, were taking me. But as soon as we reached the gazebo, a little hut with a big doublebed and a bathtub, with only mosquito nets separating the room from the jungle, the hairs on my skin raised like obedient soldiers. There is something about this gazebo, a short walk from the house by the tree on "The Land"…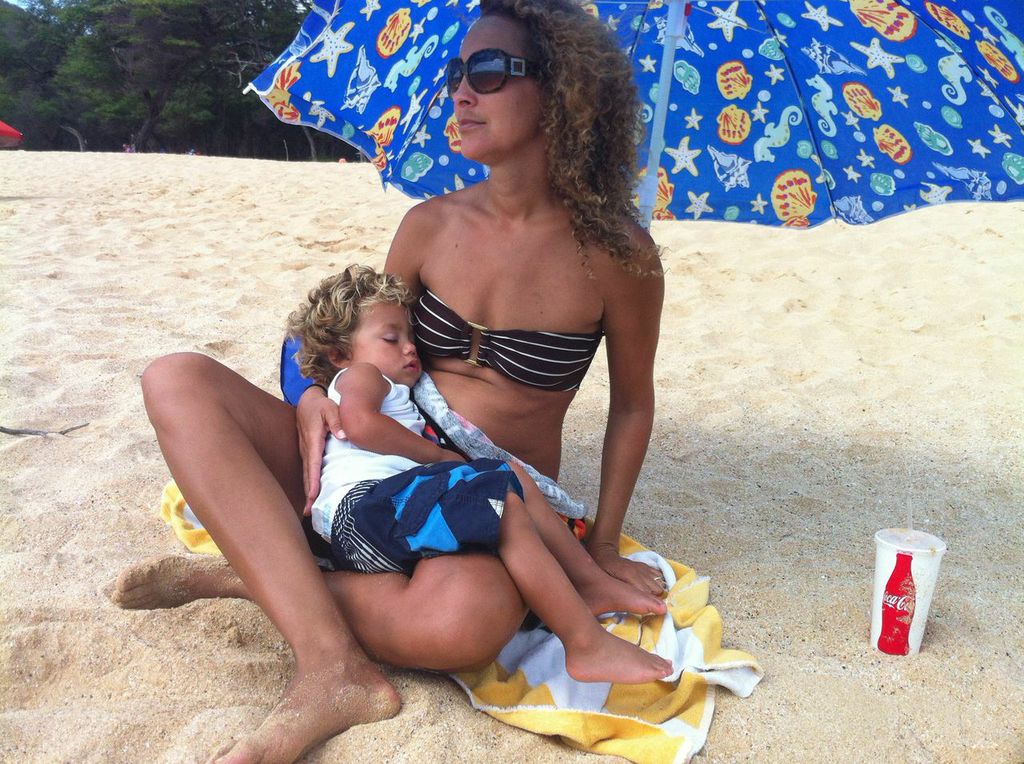 Tina (Daria's mum) tells me that before they built the gazebo, she and Chico (Daria's dad who unfortunately passed away 15 years ago) used to make love on this spot. This they must have been pretty good at since they managed to produce quite a few baby-Boone's: Daria, Damien, April, Adrien, Haden, Chana, Nara, Rana and Tascha.
Tina is a birthpro. Not only did she give birth to 9 kids herself, but she has been the midwife for more than 700 kids! And people venture all the way from Japan to Maui to let their babies be born into the whole Tina-experience. She takes the pregnant women to the waterfalls, and sooths them with her aloha-presence and the spirits of the extraordinary and beautiful land of Maui (also known as the mother-island). Tina is quite an extraordinary woman herself, and so are the stories she tells.
"Martine, have you ever been to Thailand?" I answer and she continues with "Oh, excellent -me too! I was there with my two brothers of 13 and 14 when I was 16. I took my brothers traveling for three months to Bombay, Thailand and Israel. And 4 1/2 minutes after I'd booked our plane tickets in Tel Aviv, the ticket office was bombed!" And then she continues like her story was no big deal. "So, how was your day? I heard you were at my favorite lunchbar in Kihei."
And in mysterious ways she always seems to know where we or everyone else are, and what is going on around. Led by her strong will and tuition she left her socialite upbringing in Rome (Oh Martine, did I tell you the story when Martin Luther King came to my parents for dinner?) to a life on the island, struggling to make the ends meet. But as soon as she and Chico first set foot her, they knew they had to stay – magnetized by the Maui-Magic. And now, 35 years and more than 700 babies later, she is treated like a celebrity/ slash mother Theresa on the island. Her big heart seems to have room for so many, and everybody knows and respects her. For a good reason. Even though she usually comes home to the pregnant women for the births she also wholeheartedly opens her home for those who needs a place. And this is where the mystical hut, that the toad and Tina showed me my first evening in Maui, comes in.
The Gazebo has become a house for guests and births and 27 babies have come to this world here over the past 30 years. And surprisingly enough, less than an hour after my first visit, a pregnant lady from across the island shows up and gives a natural birth in the bathtub into the arms of Maui and Tina…
And although the sounds are many and loud in the Gazebo; of wind and liquid sun (commonly known as rain). Of the many creatures lurking in the jungle. Of the morning-gloried stray hens (although Tina took a few of them in the truck the other day and let them into another forrest). Of the roar of "Jaws" (the worlds most famous wave right by the house) which one of the Boone-brothers recently body boarded in and made history, or the sound of a wind chime that one of the neighbors on "The Land" must have hung up by the hut last night. It is still the most quiet, soothing place on this mother-island. And after that lady gave birth in the Gazebo, I've slept most of the nights here. I sleep like a baby.
#23) So as the guy from "Project Hollywood" said (ref. post from LA) in an attempt of a pickup-line: "I want an injection of your genes in me". Well, as cheesy as it may sound, that is kind of what I want from Tina Boone. The same genes she had passed on to my dear friend Daria and her siblings. Filled with love and patience, the Boone's are so free and chilled, and a little bit of those genes could come in handy to all of us.