I don't know anything about cycling. Nothing at all. And up until that day I hitchhiked with Keith in March, I knew nothing about Giro d'Italia. I did not know that they call it "the toughest race out there", in the next biggest sport in the world (second after that rubber-ball they kick around). And in a way it is unfair that I am here in the midst of the biggest event for a sport that the whole world seems to care about, but that I have no idea about.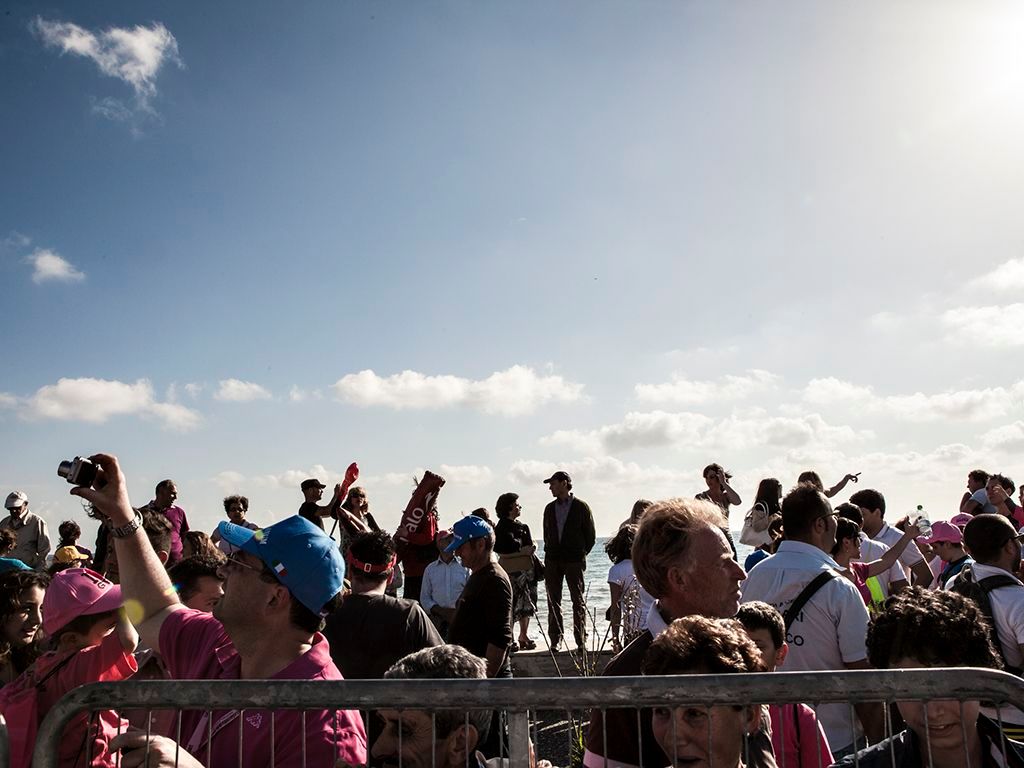 He is already a world record-holder, but no one knows. There are no press-folks surrounding him. He doesn't have a support team (only me for now). He doesn't have his own cycling suit. Today he cycled in his Liverpool shirt in honor of his favorite football team. He buys tacky Giro-souvenirs for his family and takes photos like a Japanese, just like any other normal tourist. But the truth is that he is the first and only in the world to have cycled the whole Tour de France on the same day as the race, alone. This was last year. And although this is an unbelievable achievement, all he did to "brag" about it was to send an e-Mail to his close friends to raise money for environmental causes.
And now I'm so lucky to be witnessing an attempt of extreme mental and physical endurance – the first ever attempt to cycle all the full 21 stages of the Giro d'Italia (an even tougher race than Tour de France), an equivalent of 83 marathons in 23 days… Starting every morning at 05:00/ 05:30, on the same day as the professionals. In the complete darkness. Solo.
The crazy guy is Keith Tuffley. The unknown Tour d'France hero, the ex Goldman Sachs chief, the family man (his wife Yvette and their four children will join us later). The iron willed man (he must be), who with a recent knee surgery and only a month to train for this, decided to fully wholly do this crazy "cycle-stunt for a sustainable planet". As the whole madness will again be done in the fight to preserve our environment. Keith is passionately involved with environmental causes, and believes that because this is a field that is too big and elusive for many of us to engage in it is, therefore, even more important not to forget.
Despite his engagement for the environment, the iron willed man was about to cancel the whole Giro d'Italia-stunt this year. He has been so preoccupied with the recovery of his knee, that he had forgotten to focus on two important parts of the organisation.
He lacked crew and help with the fund raise. Until I joined in, after that hitchhike in March (see previous posts). And my mum too, who will join us in Rome. Priceless! I can't wait to have her with us. So here we are, on the first day of Giro d'Italia 2012 -starting strangely enough in Herning Denmark, for some "cycle political" reasons. Keith did his first stage today, not problem free (see his journal). We've worked on the website and the fund raise and I have been in touch with the press to try to get some PR of it. Cause with absolutely no budget, very limited time and a friend of Keith's who voluntarily fixes the website whenever he has time (with 8 hours time difference from Australia), the fund raise will be a challenge too. Our aim is to, besides raising awareness, to raise 21 000 dollars for the organisations Bush Heritage Australia, Great Barrier Reef research and WWF. The forest, the ocean and our beautiful planet as a whole.
Will Keith be the first in the world again? Will he make the 83 marathons in 23 days with a broken knee? Will we reach our goal with the fundraise – 21 stages and 21 000 dollars? I believe it is still to wait and see. But please guys, support the cause and Keith and follow us on: www.tuffleyadventures.com.