Why pink? The race was founded by an Italian newspaper 95 years ago, at a time when the color of the newsprints were… Pink! Hence the official color of the Giro. Just like yellow is the official color of Tour de France.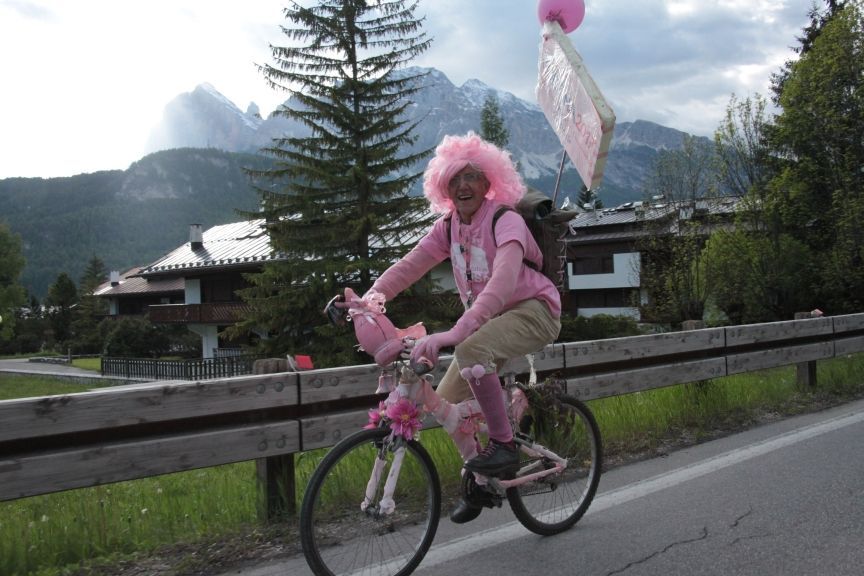 The ones arriving at the pink destinations are the parades of team-buses, caravans (the sponsors), press, supportteams, fans and professionals who travels together to the same little towns. Packing up and packing down. We're constantly on the move and the clue is to find "home" in every destination.
Let me tell you about our Italian "homes" till now: Verona, where two households both alike in dignity, The Capulets and the Montagues, Romeo and Juliet, were from. For a little while I had to sneak away from the cycling-scene, to Juliet's balcony and dream away into the starcrossed lovers' world… Fair Verona, ti amo -9 points!!!

Modena – the hometown of the Ferrari-family. Coming from perfect Verona I initially thought; "nah, I don't digg this place". But then the next morning on my daily jog through town, I had to eat my own thoughts. There were 3 beautiful UNESCO-sites inside the old citywalls! Modena was pretty pink and special too. 6+ points!
Fano. Fantastic Fano. By the sea. Dipping the feet into the turqouise waters in a city on the coast free of giant resorts points!!
Urbino. Top two so far! 9 points! A cultural hub in the 15th century and an intellectual hub now, with 10 000 students in the buzzing University-city. Best meal so far, and by far the best Hotel. Gotta be back!
Then Recanati, a rennesaince-beauty, where every young and old, were out in town soaking in the almost tangible energies of the Giro. Yet another heavenly pearl! Then, we were off to the skiresort Rocca Di Cambio, mini-Rome Sulmona, Laceno with it's lakes and hills… And now we're? I'm loosing track. I just know that every single place we are coming to are surprisingly stunning. Giro d'Italia 2012 has surely selected some good spots so far. And yet there are many more (pink) homes to come…